This Blog Hop has ended. All winners have been sent their prizes. Hope to see you again at another blog hop.
Welcome to the 5th Annual Authors in Bloom Blog Hop!
This hop will go on from April 7 - 16, 2016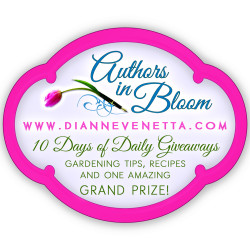 The following garden tip comes from Brooklyn Botanical Gardens on their course Plants for Tree Beds:
Annuals, perennials, and bulbs can be beautiful additions to a tree bed but be mindful not to damage the tree's roots which can be thick and deep.
1) Never raise the soil level when you install new plants in a tree bed. This can rot the bark at the base of the trunk. Exposed tree roots need to be able to breathe and don't require layers of soil piled on top of them;
2) Use a hand cultivator (a three prong or fork tool) to loosen the soil around the tree but be careful not to damage or break the tree's root;
3) Select plants with small root systems such as pansies, paperwhites, and zinnias to put in the tree bed, making sure to keep them at least 6 inches from the tree trunk;
4) Choose plants that are able to thrive in the shade like begonias and don't require much water as the tree's roots will usurp most of the rainwater. Look for tags on plants that use such wording as "drought tolerant" and "good for xeriscaping;"
5) Place 1 to 2 inches deep of mulch (wood chips) to stop weeds from proliferating and to assist rainwater to seep into the soil and keep the plants moist and feed;
6) When watering the tree bed by hand, set the nozzle on your garden hose to the spray shower function and give the bed a gentle spritz;
7) Install a tree guard to protect the bed and hold the mulch and soil in place.
Enjoy your gardens.
Please leave a comment to enter my giveaway which is a free PDF copy of my novel The King Maker. You must leave your email address (replacing @ with [at] and .com with [dot] com to safeguard your email) in order to be considered for the grand prize.
GRAND PRIZE is a Kindle Fire or Nook (winner's choice) along with a 2nd prize of $25 gift card. Only those visitors who visit EACH and EVERY stop along the hop will be eligible for the grand prize.
Winners will be posted on both the first stop (Dianne Venetta) and last stop (BloominThyme) websites.
Continue along the list of authors participating in this hop: http://www.linkytools.com/basic_linky_include.aspx?id=266872